See also the South-East Schools Calendar 2017-18.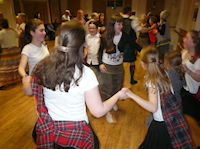 Children's Classes
Fun for boys and girls on Saturday mornings, see Notice. St John's Children's and Young Dancers' Scottish Country Dancing Class is run by St John's Scottish Country Dancing Club. Run by a certified teacher, contact Deborah Draffin on 01344 776 831.
Held at 9.30am - 11.30am on Saturdays during term time at
Crowthorne Parish Hall, 50 Heath Hill Road South, Crowthorne, Berkshire RG45 7BN
Beginner's Class
See Starting Scottish Country Dancing.
We don't have a class for beginners currently. People new to Scottish country dancing are encouraged to come along early at 7.30pm to the General Class (see below), where they will be shown the basic steps and formations before being integrated into the main class. Please contact Mervyn Short, 01903 782413 beforehand. Any of the many clubs in the area are also pleased to offer instruction most times but please contact them a few days in advance.
GENERAL CLASS
Held at 8.00pm-10.00pm on Wednesdays at
St Mary's Church Hall, Park Road, Camberley GU15 2SR
The class is suitable for Intermediate and above dancers and follows the RSCDS criteria.
The class starts with a warm up followed by step and formation practise and dances to illustrate points of technique. After a tea break there is less emphasis on technique and typically dances from forthcoming dances are taught finishing with an old favourite and a cool down.
RSCDS members £3.50, non-members £4.00
Contact: Mervyn Short, 01903 782413.
Autumn term is on Wednesdays from 6th September to 13th December.
After Christmas classes are on the Wednesdays from 10th January until 28th March. After Easter they are from 11th April until 23rd May.
MONDAY TECHNIQUE CLASS
Held at 8pm on alternate Mondays at
Finchampstead Memorial Hall, The Village, Finchampstead, Wokingham RG40 4JU
A class for intermediate to good dancers who are looking to develop their performance and enjoyment. Most classes have live music. Great teachers to help get rid of those bad habits and dance with style.
The classes start promptly at 8pm and finish at 10pm.
RSCDS members £4.50, non-members £5.50
Contact: Alex Duncan, 01932 241615.
The musician for these classes is Judith Muir. September 4th and 18th will use the CD of Book 51 instead,
CDs will also be used on the following nights when she is unavailable:- Oct 16th, Jan 8th, Jan 22nd, Feb 19th and Mar 5th.
2017
TEACHER
Sept 4th


Book 51

Paul Plummer

Sep 18th


Book 51

Mervyn Short
Oct 2nd
Anne Whillis
Oct 16th
Anne Carter
Oct 30st
Anne Whillis
Nov 13th
Anne Carter
Nov 27th
Paul Plummer
Dec 11th
Mervyn Short
2018
TEACHER
Jan 8th
Paul Plummer
Jan 22nd
Deborah Draffin
Feb 5th
Deborah Draffin
Feb 19th
Catherine Smith


Themed Night

Mar 5th
Mervyn Short
Mar 19th
Anne Carter
Easter break - three weeks
Apr 9th
Mervyn Short
Apr 23rd
Paul Plummer
The Themed Night will be an evening of dances devised by our own Branch menmbers past and present
Members £3 Non-members £4. M/C Catherine Smith, music from CDs.