Scottish Country Dancing is a form of social dance enjoyed worldwide. The dances are danced in groups called sets, normally of three or four couples. It is fun and an exercise for both the mind and body. See Starting Scottish Country Dancing if you would like to know more and how to start.
Upcoming Events in the Area
See Dates of Club Events in the Branch Area for the full list and details.
Summer Social Dancing
Three Hands Across CD and book set now £7 - see below.
RSCDS News
Now available The RSCDS Annual Review for 2015 (pdf).
Bargain Bin
The Bargain Bin is back! With many titles available at the discounted price of £6.00, this is a great way to get your hands on titles for a very low price
Summer School 2016
Four one week courses in beautiful St Andrews, see Summer School 2016. Applications must be in by 30th April 2016.
About the Branch
The Berkshire/Hampshire/Surrey Border Branch is a branch of the RSCDS – the Royal Scottish Country Dance Society. We provide a connection and support for a number of Scottish Country Dancing clubs in the area. This area enjoys an active programme of dancing events. We offer facilities such as graded classes, teacher training, instruction and day schools.
Membership of the branch includes membership of the RSCDS and helps support the preservation and promotion of Scotland's traditional dance and music. See What the Branch does for more information on what we do and the benefits of membership.

Please follow RSCDS BHS Border Branch on Facebook to keep in touch and be informed about the Branch and upcoming dances in the area.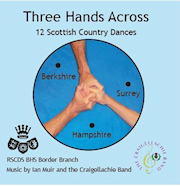 Three Hands Across
A book by RSCDS BHS Branch Members, with a CD of music by the Craigellachie Band
Now £7 for the set, £5 for the CD or £3 for the book,
email branch secretary for details
---
Please contact the webmaster to report any problems with the site.